RePete 1.2.0 is now available! This update introduces a few graphical improvements and makes changes to several levels for a number of reasons. The main reason is so that they are better formatted for mobile devices, since this version will be released soon for iPhones! However, some other things have been considered as well. In particular, levels that felt like entirely unnecessary filler levels have been improved and now attempt to teach the player how to use Pete's powers to solve certain kinds of puzzles.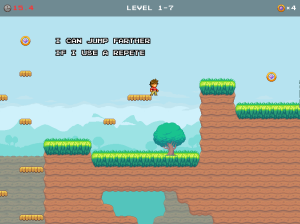 Along with RePete 1.2.0, RePete is almost ready to launch on iOS devices! It has been an interesting process porting the game. The code itself was easy, since I wrote it in Lua, but there were some design issues that I hadn't considered that I had to fix for the small screen of a mobile device. For example, the instructional text in level 1-7 (above) appears off-screen on smaller devices (i.e. iPhone 5 or older). To fix this problem, I implemented a way to automatically move the text back in viewing range.
The smaller screen also presented a problem with some menus, such as the level select menu, which have been updated on devices with smaller screens.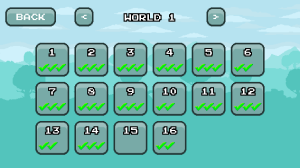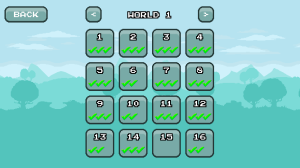 Thanks for checking out RePete! Please vote for it on Steam Greenlight and keep an eye out for the iOS launch!